这是BBC的数码频道BBC FOUR自己评的,候选影片是2006年在英国公映的外国影片。以下是候选名单,由BBC FOUR自己找评委评选。结果1月25日公布。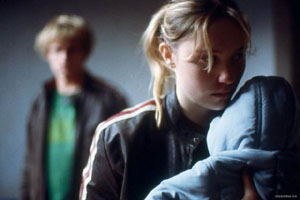 THE BEAT THAT MY HEART SKIPPED
(De Battre Mon Coeur S'est Arrêté)
Jacques Audiard, France, 2005
The seemingly irreconcilable worlds of crime and classical music collide in the character of Thomas Seyr (Romain Duris) in this stylish, complex drama.
THE CHILD
(L'Enfant)
Jean-Pierre & Luc Dardenne, Belgium/France, 2006
Petty criminal Bruno (Jérémie Renier) and his girlfriend Sonia (Déborah François) have a baby together, but Bruno's enthusiasm for fatherhood soon wears off and he makes a decision with terrible consequences.
THE DEATH OF MR LAZARESCU
(Moartea Domnului Lazarescu)
Cristi Puiu, Romania, 2005
In Puiu's deeply black comedy about a sick old man who is shunted from hospital to hospital, Mr Lazarescu (Ion Fiscuteanu) maintains a curious heroism in the face of death.
HIDDEN
(Caché)
Michael Haneke, France/Germany/Austria/Italy, 2005
This psychological thriller delves into the personal demons of chat show host Georges Laurent (Daniel Auteuil). He leads a comfortable life until an unsolicited video tape reveals he has a silent stalker.
LADY VENGEANCE
(Chinjeolhan Geumjassi)
Chan-Wook Park, South Korea, 2006
The concluding part of Chan-Wook Park's bloody trilogy (following Oldboy) centres on Lee Yeong-ae's portrayal of a young mother, who after being wrongly imprisoned for 13 years, goes after the man who framed her.
VOLVER
Pedro Almodóvar, Spain, 2006
Almodóvar at his finest. Here he directs Penélope Cruz in a funny, tense and ultimately touching tale of three generations of women dealing with dark secrets.
我没有看过 The Death of Mr Lazarescu 和 The Beat That My Heart Skipped。如果让我选择,我会选 The Child (L'enfant)。